Updated on 29 March 2018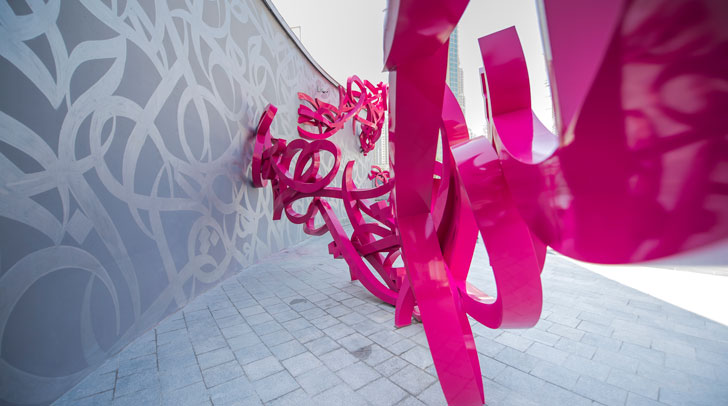 World renown calligraphy artist eL Seed has brought the quote by His Highness Sheikh Mohammed bin Rashid Al Maktoum, Vice President and Prime Minister of the UAE and Ruler of Dubai, "Art in all it' s colours and types reflects the culture of the nations, their history and civilisation" to life through his eye-catching sculpture 'Declaration'.
The unique piece of calligraphic art was unveiled at Dubai Opera Gardens on Wednesday. Protruding from the walls of the Dubai Opera Gardens,eL Seed's spectacular creation is his own tribute to art and is declaration of adoration to his passion; calligraphy.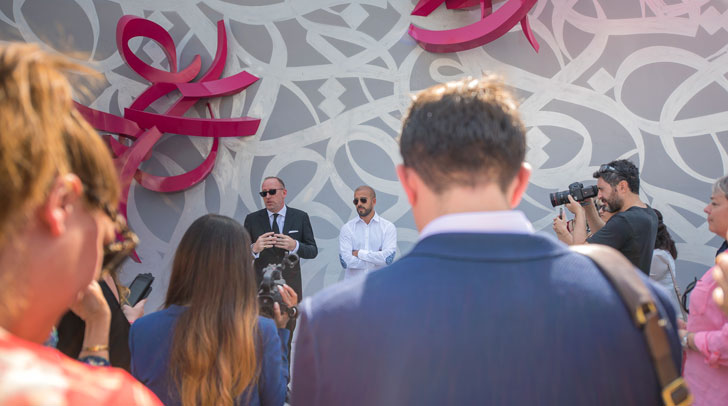 It took a year and 31 craftsmen to complete the sculpture which is 30 m long and weighs three and half tons. 'Declaration' has used a pink theme and looks stunning with views of the iconic Burj Khalifa in the background.
eL Seed, who had a residency at renowned arts center, Tashkeel, previously collaborated with Louis Vuitton on their famous 'Foulard d'Artiste'. He also was named a 'Global Thinker' in 2016 by Foreign Policy as a result of his project 'Perception in Cairo'. Over the years, he has installed his work in public spaces and galleries around the world, from the streets of Paris, to the Favelas of Rio Di Janeiro, 'Declaration' is the first of this scale to be placed in a public space.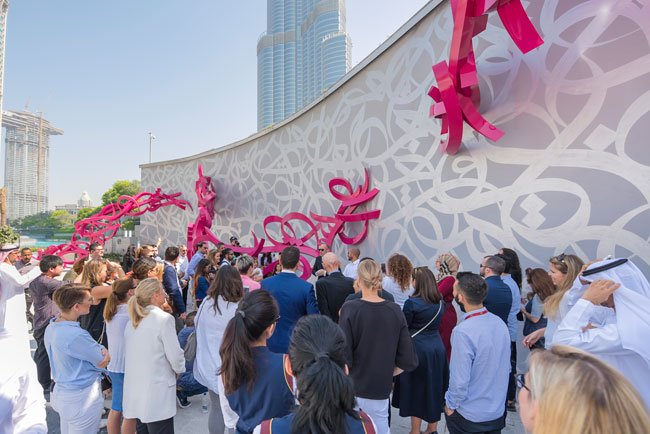 It was important for eL Seed to install his work in an Arab country to support the notion that Dubai is taking towards public art.
Commenting on the sculpture, Chief Executive of Dubai Opera Jasper Hope states,"Dubai Opera is all about promoting the culture of nations and we are delighted to have commissioned el Seed's remarkable new work Declaration and especially honoured to have the words of His Highness Sheikh Mohammed bin Rashid Al Maktoum brought to life in this way for so many people to enjoy."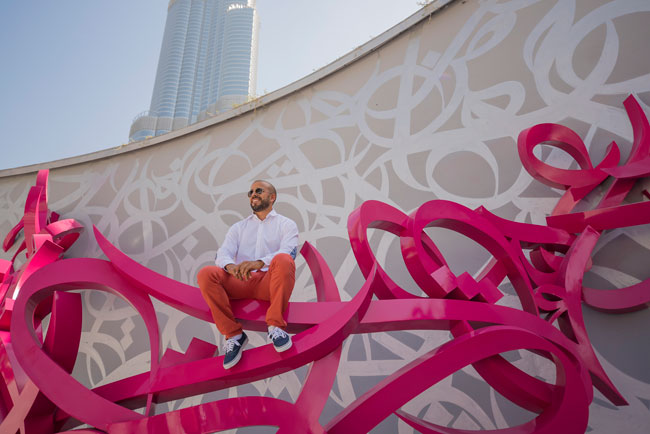 Artist, eL Seed says "Declaration was a love declaration to Arabic Calligraphy. Today is a declaration of love to the city that I call home. It is important for me to keep my culture and the Arab language alive through my art. I carry a tradition and I want to inspire younger generations to love who they are and where they are from."